Rogue MIL Pull Up Station Review: Build Stamina & Strength
×
Affiliate Disclaimer
---
As an Amazon Associate I earn from qualifying purchases. Some of the links on this website may link to vendors which are "affiliate links". If you click on a link I may receive a commission!
If you are wanting a nice heavy duty pull up and leg up bar then you know the normal ones from Amazon are cheaper and can't always hold up to hard use where you need to swing.
Rogue decided to up the game for people looking for leg up and pull up needs which aligns with the Army Fitness testing needs and it is very strong and durable coming in at 146 pounds that will help keep it in place no matter your swing.
In addition it comes with a step to help you gt up and get going instead of starting with a jump which can be hard on your arms and cause injury if you cant manage to hold once up, like with a pull up beginner!
Rogue MIL Pull Up Station
Height: 93" (clear for minimum 8 foot ceilings)

Foot Print: 48" x 67"

Single Pull-Up Bar - 1.25" diameter, 62" length, adjustable height from 86" to 90"

Attachable Step w/Detent Pin and Rubber Insert + Rogue Red finish, adjustable height from 18" to 24"

Unit Weight: 146 LBS
Prices pulled from Amazon Product Advertising API on:
Product prices and availability are accurate as of the date/time indicated and are subject to change. Any price and availability information displayed on [relevant Amazon Site(s), as applicable] at the time of purchase will apply to the purchase of this product.
Here's a rundown of what we'll provide in this Rogue MIL Pull Up Station review:
First we'll share the features and benefits that you'll find useful
Next, we'll take a look at the drawbacks you might need to know about
Then, we'll tell you a bit about the Rogue company
And finally we'll provide a sampling of actual customer and Independent reviews to give you better insight into the product.
Sound good? Let's get started!
Features and Benefits of Rogue MIL Pull Up Station
EQUIPPED FOR THE ACFT – While the MIL Pull-Up Station can be used as a standard, dedicated pull-up stand for any gym, it's also uniquely optimized for performing the Leg Tuck movement; Event 5 of the Army Combat Fitness Test. The extended length of the pull-up bar, at 62", is roughly a foot longer than the bar on our standard Infinity Racks. This creates more space for performing the Leg Tuck movement, in which athletes utilize an alternating grip and position their bodies sideways / perpendicular with the bar.
QUALITY ROGUE CONSTRUCTION – Built for stability and long-term durability, these 93" tall units are manufactured in the USA using 2×3" 11-gauge steel tubing + imported rubber for the attachable step. All required 5/8" hardware is included, and both the single pull-up bar (86" to 90" height) and step (18" to 24") are conveniently adjustable. The stand is finished in a black powdercoat with laser-cut Rogue branding on the rear crossmember tube. The removable step, meanwhile, has an MG Rogue Red finish and a protective rubber insert for its metal edges.
FAST ROGUE SHIPPING – The Rogue Shipping System allows you to track your order from the time you place it to the time it hits your door. Order today, track today.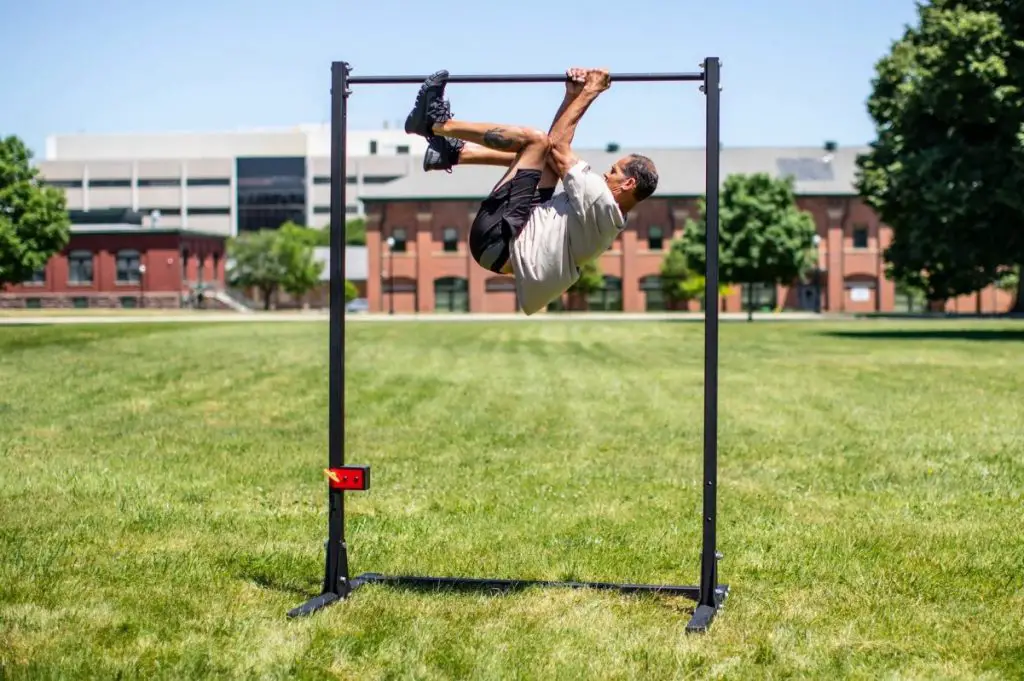 Special Features (Pros) of Rogue MIL Pull Up Station
Sturdy Frame – The pull up bar is not wobbly or shaky that helps you have confidence that the bar will not just fall over while in the middle of your exercises.
Step Up Peg – This can help you get started and in the correct position to start your workout on the bar. This can help you a bunch especially when you are wearing a weighted belt to increase the work.
Drawbacks (Cons) for Rogue MIL Pull Up Station
Shipping in Multiple Packages – People did note that the whole thing came in multiple packages which means you can't install everything until all packages are delivered to your house.
Video: Rogue Fitness Made in America
About the Rogue Company
The Industrial Revolution 2.0 is something they take a tremendous amount of pride in at Rogue. Their mission early on was as much philosophical as it was anything else.
Since day one, they have worked to source locally whenever possible. Over the past few decades, many of the local communities have lost their factories and places where men and women took pride in what they made every day. Many of these communities have been left with empty Main streets and crisis of various sorts.
When reading about any product on the Rogue site, they encourage you to look for the "Made in the USA" logo and "Made in the USA" references in the Gear Specs to determine if it's an American-made item.
Rogue MIL Pull Up Station Reviews
Looking at the features and benefits is great, but taking a look at what real-and-actual customers have to say about a product offers a deeper dive of insight. Here we've curated reviews that reflect the Rogue MIL Pull Up Station, providing feedback from product users and reviewers on independent review sites as well as online from real users and not ranking bots.
Independent Reviews and Recommendations for the Rogue MIL Pull Up Station
I was unable to find any other websites actually speaking about this pull up bar, instead the focus was placed on the user reviews below to people who have this in hand and have been working out hard.
---
What Online Customers Have to Say About the Rogue MIL Pull Up Station
I've had the pull up station for about a month now. I bought it after deciding to switch to a home gym setup. Unfortunately my basement ceiling is too low to place down there with my Monster Lite squat rack (had to get the SML-1 just to fit, by an inch!) So this is outside.

Works well, sturdy for pull ups, toes to bar. Have used my rings on them for dips, push ups and rows also. Very wide which is great and built to last. Wish it could eventually be made into a squat rack but it specifically says it cannot. The included step helps to get yourself situated, especially if using a weight belt.

Rogue User Review
---
I brought this set up about a month ago. It was simple to assemble. This product is sturdy and does not feel flimsy or wobble like other standalone pull-up stations.

I am very pleased with this purchase and as always impressed with Rogues quality and customer service. I recommend this to others looking for a standalone pull-up station.

Rogue User Review
---
I feel that it is well made. I am 6'2" and the height of the bar is at my palms with arms fully extended above my head. Wish it could be a few inches taller. The side step is unnecessary for my height.

It takes about ten minutes to assemble. But this is my travel pull up bar and I believe it is solid. For any kipping purposes, weigh down the base because it can rock a little. It took almost a full month for all products to get here as it comes in five shipments.

Rogue User Review
---
Have had this Rogue Pull-Up Station for about a month now and it's a solid product. I also use it as an elevated anchor point for my TRX and Rogue gymnastic rings for ring pull-ups and dips. Great products as always Rogue!!!

Rogue User Review
---
Final Thoughts on the Rogue MIL Pull Up Station
The Rogue fitness line of products live long lives and are built to last in America, purchasing quality home fitness gear has become a bigger issue now in the pandemic era and solid fitness options that don't need additional weights are very helpful.
Rogue does offer many other Pull Up bar options over here if you want to see what may work better on your space or home gym area.
Compare to Other Pull Up Stations from Amazon
Image
Title
Price
Prime
Buy

Top

RELIFE REBUILD YOUR LIFE Power Tower Workout Dip Station for Home Gym Strength Training Fitness Equipment Newer Version

Prime

Eligible

Buy Now

Top

Sportsroyals Power Tower Dip Station Pull Up Bar for Home Gym Strength Training Workout Equipment, 400LBS.

Prime

Eligible

Buy Now

Top

ONETWOFIT Multi-Function Power Tower with Sit Up Bench,Adjustable Height Pull Up Tower Heavy Duty Dip Station Fitness Equipment for Home Gym Supports to 330 Lbs OT127

Prime

Eligible

Buy Now
Prices pulled from the Amazon Product Advertising API on: