Rogue Echo Bike Review: Elite Home Cardio Fitness Gear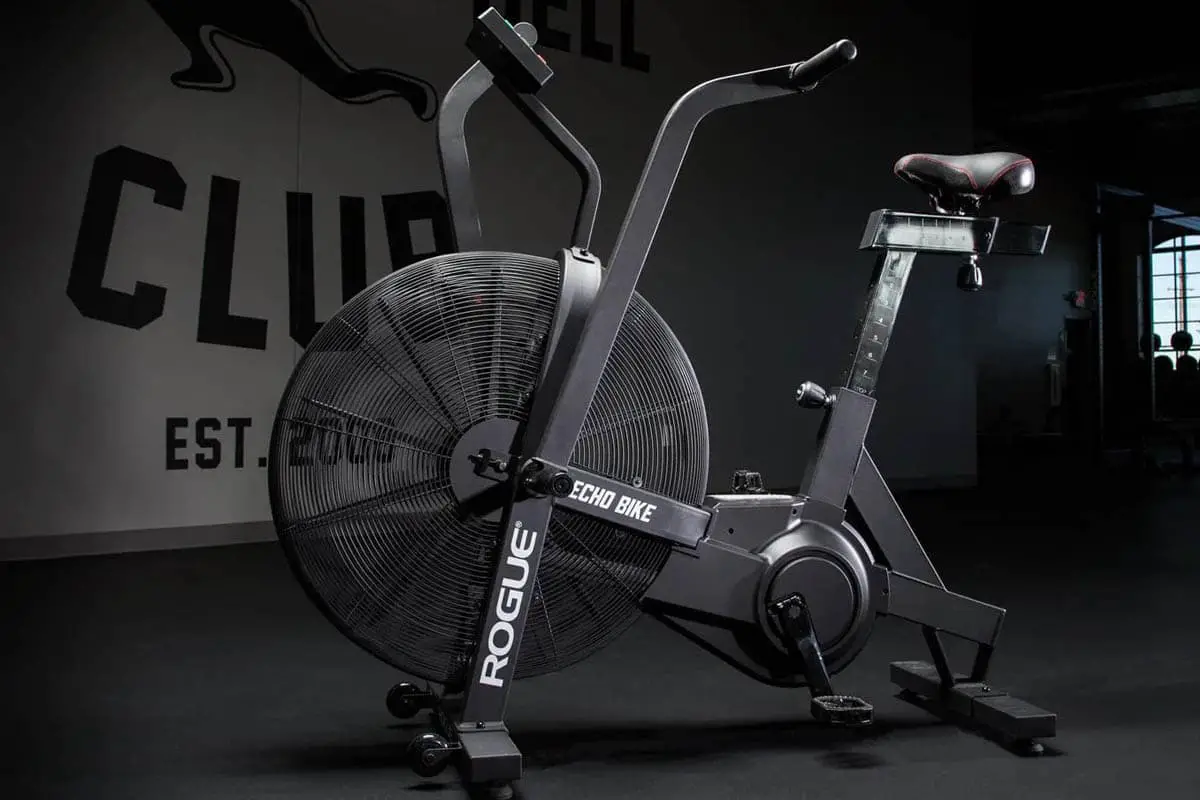 When you want to work out at home you want gear that can hold up to the abuse and continue to function reliably years down the road versus failing often, as is the case with much of the non-commercial user-grade equipment.
When Rogue Fitness decided to toss themselves in the ring I knew we were going to get some excellent quality gear.
They have always created solid gear, which is why they are used in Crossfit games, as they are reliable and make quality gear.
MAX STABILITY & A SMOOTHER RIDE
LCD CONSOLE
QUALITY CONSTRUCTION
PART OF A COMPLETE WORKOUT
EASY ASSEMBLY + PORTABILITY
Here's a rundown of what we'll provide in this Rogue Echo Bike review:
First we'll share the features and benefits that you'll find useful
Next, we'll take a look at the drawbacks you might need to know about
Then, we'll tell you a bit about the Rogue Fitness Company
And finally we'll provide a sampling of the actual customer and Independent reviews to give you better insight into the product.
Sound good? Let's get started!
Features and Benefits of the Rogue Fitness Echo Bike
MAX STABILITY & A SMOOTHER RIDE – Weighing in at 127LB, 350LB weight limit, the Echo Bike is not the wobbling breed of exercise bike. Its reinforced steel construction gives it the rigidity and balance to help eliminate sways and bumps during even max output bursts. The fan's steady response delivers a uniquely consistent, smooth riding experience. We've included rubber leveling feet under each base tube for added stability. These feet adapt to your flooring and provide added "stick," helping to level the bike even if it's not on a level surface.
LCD CONSOLE – The mounted LCD console measures 6.375″ x 6.375″ and features a crystal clear, high-contrast display. Athletes can select or create a wide range of modes, including Intervals (20/10, 10/20 or a custom Work/Rest interval), Target (choose a goal Time, Distance or Calories and the console will count down based on your selection), and Heart Rate Tracking (please note that a heart rate transmitter is required to send data, but is omitted). The console runs on two AA batteries, which are included.
QUALITY CONSTRUCTION – The Echo Bike is built with a range of durable steel tubing (2×3″, 1.25×3″, and 1.625×3.125″ steel finished in a texture black powder coat. The adjustable padded seat locks into 8 different height settings and 5 front-to-back settings, and the 1.5" diameter rubber grip handles are welded directly to the bike's arms for added rigidity. A steel step plate is provided along with knurled 4.5″ long rotating foot pegs and metal pedals. The fan itself is a belt-driven, precision steel blade.
PART OF A COMPLETE WORKOUT – Whether you train out of a garage gym or run your own large-scale facility, the Echo Bike makes a logical companion piece to some of the other top endurance machines in the industry, as well as essential Rogue conditioning products like Rogue Medballs, the SR-1 Speed Rope, and the Wise-Crack AbMat.
EASY ASSEMBLY + PORTABILITY – Assembly is required to set-up the Echo Bike, but all necessary tools and black hardware are included standard with your order, along with easy step-by-step guidelines. While the fully constructed bike is a beast, we've included a set of 1″ wide polyurethane wheels at the front of the unit, allowing it to be rolled around the gym or stored out of the way with ease.
EXCLUSIVE ACCESSORIES & ATTACHMENTS – Optional Echo Bike accessories can be included with any order (via the dropdown menu) at an additional cost. You can choose from our exclusive Bottle Cage, mast-mounted Phone Holder, and the custom Echo Bike Wind Guard (a plastic shield that prevents air from blowing back into the rider's face). The Echo Bike is also compatible with optional accessories from other suppliers, including Shimano.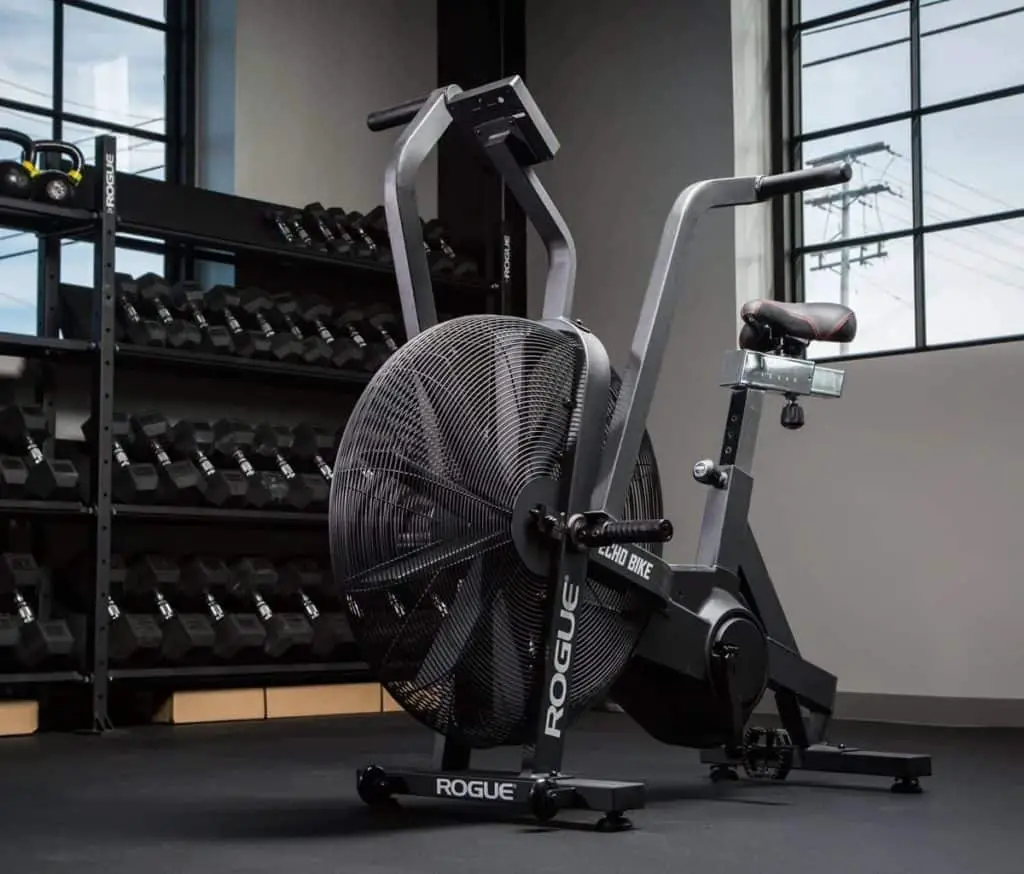 Special Features (Pros) of the Rogue Echo Bike
Sturdy and Well Built – Many reviewers compare it to a "tank" and that it is tough and durable and can hold up to the most extreme torture they can give it through hard workouts. Along with being sturdy people say the rogue echo bike assembly is simple.
Excellent Service On Issues – People have mentioned that if something started to fail, Rogue was on the spot shipping and delivering a replacement part ASAP to help fix the issue and get the bike functioning correctly again!
Supports Larger Men and Women Without Issue – Many are amazed at the ability to have a bike that works for 6'6″+ males and perfectly suited to still working for a woman without anything other than a few adjustments making it the perfect machine for a couple to have on hand.
Drawbacks (Cons) for the Rogue Echo Bike
Wobbly Arms – This has been reported by a few users but is typically down to they worried about overtightening and instead made them so loose that the arms get the wobbling feeling. Don't fret just tighten them more than you think, it's tough and won't break!
Timer Runs Fast – People have reported that the onboard timer can run a bit fast with someone specifically pointing out that over an hour-long workout they lost 31 seconds, may not be a big deal but figured you want an informed decision.
Video: Rogue Fitness Echo Bike
---
About the Rogue Fitness Company
The Industrial Revolution 2.0 is something they take a tremendous amount of pride in at Rogue. Their mission early on was as much philosophical as it was anything else.
Since day one, they have worked to source locally whenever possible.
Over the past few decades, many of the local communities have lost their factories and places where men and women took pride in what they made every day.
Many of these communities have been left with empty Main streets and crises of various sorts.
When reading about any product on the Rogue site, they encourage you to look for the "Made in the USA" logo and "Made in the USA" references in the Gear Specs to determine if it's an American-made item.
Rogue Echo Bike Reviews
Looking at the features and benefits is great, but looking at what real-world customers have to say about a product offers a deeper insight into the value of this product.
Here we've curated reviews that reflect the Rogue Echo Bike, providing feedback from product users and reviewers on independent review sites and online from real users and not ranking bots.
Independent Reviews and Recommendations for the Rogue Echo Bike
The Rogue Fitness Echo Air Bike is truly a heavy-duty investment you won't regret. As air bikes have finally gained the recognition they deserve in the athletic community, it's time you pick up your own.

The Rogue Fitness Echo Air Bike is simply an impressive piece of training equipment that can help you lose weight and tone your muscles. It's a great way to exercise if you prefer really intense workouts. Plus, you won't be taking up too much floor space.

It won't be an easy ride; it will be tough, it will be gruelling, but you will improve your performance and truly be pleased with it. It's just time for you to enjoy the pain and get a kick out of your gains.

Read More…
---
The point is, the Rogue Echo can stand toe-to-toe with the best air bikes in the world and hold its own. I think it's pretty easy to see that Rogue's Echo Bike is a high-end cardio machine.

It's designed from the get go with quality and performance in mind. Based on what I know about Rogue Fitness, I wouldn't expect any less.

The stand out features for me are the super heavy-duty frame, high weight limit, and belt drive system.

Read More…
---
I hope you found this Rogue Echo Bike review to be helpful. You can burn dozens of calories per minute, slim down and stay fit with an air bike and the Rogue Echo is among the best out there.

It's smooth and sturdy, if not a little on the bigger side. But there's a reason why so many commercial gyms have them.

They're dependable and effective. That's what you would expect of a product from one of the fitness world's biggest names, isn't it?

Take a look at the Rogue Echo bike.

Read More…
In use, the Echo Bike feels quite a bit different from an Assault Bike or other chain-driven bikes. The resistance is different also due to the size of the fan blades.

However, the calories are counted in a very similar fashion as the Assault AirBike as confirmed by Rogue Fitness.

If you're someone who likes to ghostride air bikes, you're probably not going to love the belt-drive, it doesn't spin as freely as a chain drive.

Read More…
---
What Online Customers Have to Say About the Rogue Echo Bike
Bought it 3 weeks ago and have been using it consistently. This bike is built to last! I am 6'3 around 260 and I have no issues with supporting me.

I recommend this equipment and it's worth the investment. Don't be afraid to tighten the handles really good.
---
The bike arrived in a box about 60-70% pre-assembled. The instructions to assemble the bike are the best written instructions that I have ever received.

They are not only clearly written, but the size of the typeface, the size of the diagrams, and the step-by-step method allows you to assemble this bike in no time.

All of the tools are included and there is no fussing or fighting with trying to fit a screw into a pre-drilled hole. Everything fits perfectly. Tight. Seamless. Congratulations!

You have just built a solid, precision-engineered machine. And best of all. . .I did it alone. No need for an additional set of hands.

Everything works as advertised. It is smooth, comfortable, quiet, and solid. There's a good feeling about having a substantial piece of equipment – it not only looks and feels professional grade, but it performs well too.

There is something to be said about competence and Rogue Fitness has gone well beyond in this bike.
---
I bought the Echo Bike at the start of the quarantine to build up my home gym. I was going back and forth between the Echo Bike and Assault Bike. Going with the Echo Bike was the best decision.

You can tell how much Rogue has put in on the quality of the bike from the first ride. I use this bike about 3-4 times a week and it has become a love/ hate relationship.
---
Bought this couple months ago, thing is an absolute tank. I weigh 290 and it doesnt move when im on it even going hard. I dont do much HIIT stuff (maybe once a week) but use it mostly as a warm up and cool down for 5-10 minutes before and after my lifting at a steady 24 mph pace. Very happy with the purchase.

Anyone complaining about the arms wobbling, I had the same issue when i first put it together, you need to try to hold the arms perfectly upright (second set of hands makes it easier) and then really tighten it down.

If you cant tighten it good with the little allen key they supply, get a hex drive socket for a socket wrench and its a lot easier. Careful not to strip it though. I have zero wobble now.
---
Final Thoughts on the Rogue Echo Bike
Long gone are the days of a crappy, dusty, little bike in the corner. Today's bikes are fitness machines allowing you to take yourself to the very limit of as far as you are willing to push, or maybe punish, yourself.
Rogue is amazing at standing behind their equipment and though this comes with a premium price tag, it also comes with dedicated support to help you should any issues occur and to get you back and up as soon as possible.