The pinnacle of device trackers, with a simple ring on your finger, indistinguishable from a standard ring you can track all of your health markers. Including heart rate, sleep, steps, and soooo much more.
This is the stuff of science fiction which has become science fact, what's more, is that they are now participating in helping to use the data to see if it is possible to spot sickness or health impacts before it occurs by using the many data points to help.
Oura Smart Ring
Deep Sleep Diagnostics

Personalized Health Information

Track Habits and Trends

Heart Rate Variability
Prices pulled from the Amazon Product Advertising API on:
Product prices and availability are accurate as of the date/time indicated and are subject to change. Any price and availability information displayed on [relevant Amazon Site(s), as applicable] at the time of purchase will apply to the purchase of this product.
Here's a rundown of what we'll provide in this Oura Smart Ring review:
First, we'll share the features and benefits that you'll find useful
Next, we'll take a look at the drawbacks you might need to know about
Then, we'll tell you a bit about the Oura company
And finally we'll provide a sampling of the actual customer and Independent reviews to give you better insight into the product.
Sound good? Let's get started!
Features and Benefits of the Oura Smart Ring
Advanced Sensors – Packed with infrared LEDs, NTC temperature sensors, an accelerometer, and a gyroscope all wrapped around your finger — the most precise and convenient place to capture body measurements like heart rate, HRV, temperature, steps, and more.
Lightweight & Durable – Oura ring is made of titanium, so it is durable and lightweight, weighing less than .25oz. The most comfortable smart ring in the world.
Extended Battery Life – A single charge lasts up to 7 days. The Oura ring uses wireless charging and completes a charge in 1 hour.
Water Resistant – Non-metallic seamless inner molding is fully water-resistant.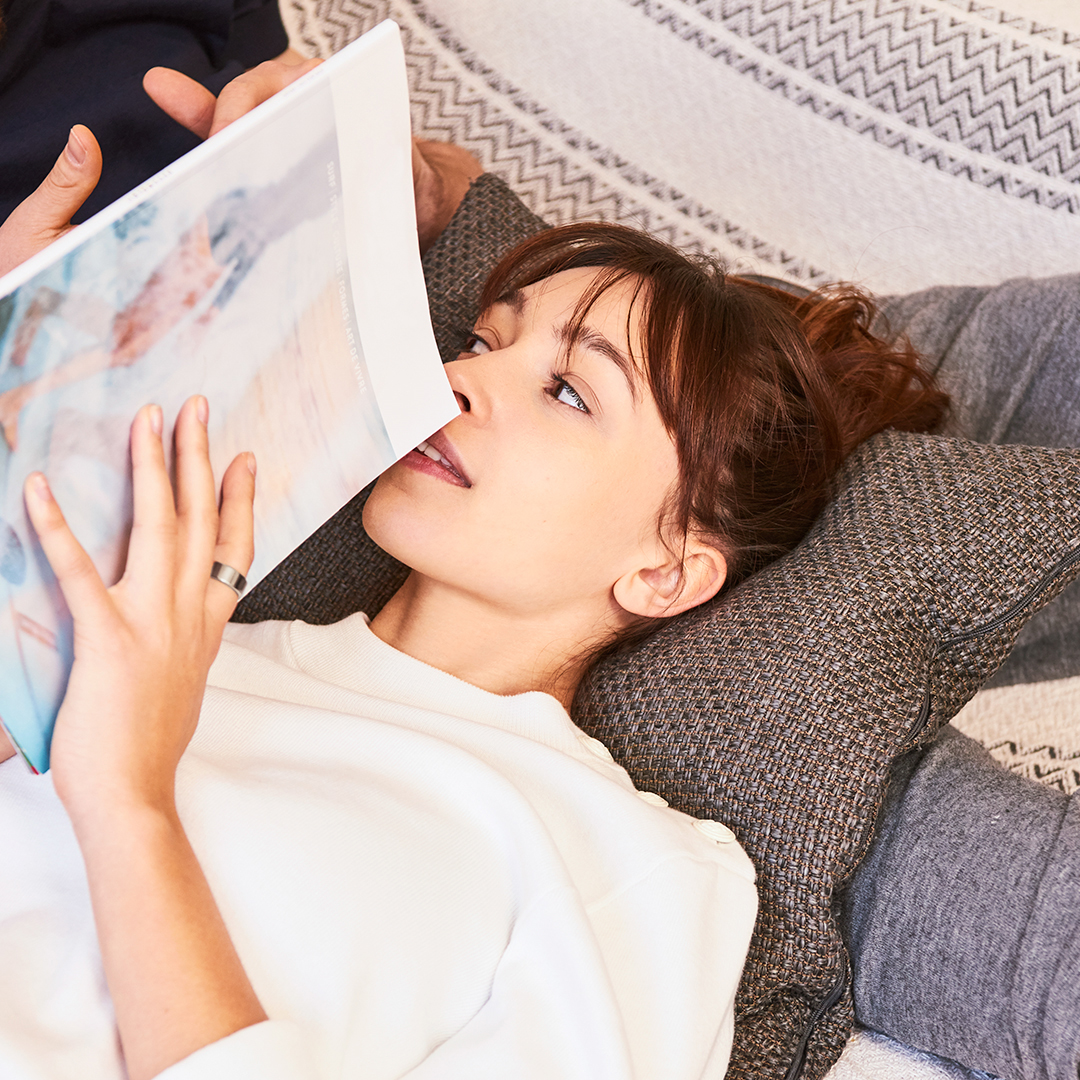 Special Features (Pros) of the Oura Smart Ring
The Ring Itself – The Oura Ring measures body signals that provide personal insights through a slim titanium ring that's water-resistant up to 100m, has a battery life of up to one week, and is finished with a diamond-like carbon coating.
Infrared Sensors – Most wearables only capture information from the capillaries at the skin's surface through green light LED sensors, while Oura uses red infrared sensors to penetrate deeper, straight to your finger's arteries.
Oura Learns You – Because everyone is unique, comparing your own body's signals, like resting heart rate (RHR), to other people's signals won't do much for you. What matters is your normal RHR, and your fluctuation above or below your norm.
Explore the Moment – With Moment, you can understand how effective different mindfulness practices are by comparing your results over time. For example, is there a breathing practice or soundscape that brings your RHR down? What happens to your body's signals when you spend ten minutes in a guided meditation versus ten minutes of unguided rest?
Drawbacks (Cons) for the Oura Smart Ring
No Auto Fitness Tracking – The Oura is more of an activity tracker instead of a fitness tracker to a certain extent, it won't be able to tag activities for you automatically. Though you will be able to go into the phone app and tag activity areas.
Price – let's be honest as there are many bracelets from people like FitBit which cost much less while providing similar data. Most of them though don't have your comprehensive health as their end goal.
Video: Oura Smart Ring Review
Oura Ring Phone App
Here are some of the awesome ways you will be able to see and use your information to make changes to your activity and manage your sleep and readiness in easy to read and comprehend graphs and plots.
About the Oura Company
Oura Health Ltd. is a Finnish health technology company founded in 2013. Oura is the world's first wellness ring and app that shows how your body responds to your lifestyle by analyzing your sleep, activity levels, daily rhythms, and the physiological responses in your body.
Oura Smart Ring Review
Looking at the features and benefits is great, but taking a look at what real, live, and actual customers have to say about a product offers a more expansive understanding and insight. Here we've curated reviews that reflect the Oura Smart Ring, providing feedback from product users and reviewers on independent review sites as well as online forums.
Independent Reviews and Recommendations for the Oura Smart Ring
If you love this stuff as much as I do and consider yourself an enthusiast, you'll have no regrets becoming an early adopter. Whoever you are, the ring can certainly help you understand more about yourself and why you feel rough some days and great on others.

This is an excellent device for any biohacker and has the potential to become essential for a much larger audience soon.

Android Authority
---
Considering everything you will learn about your body and the fact that it should last a long time, it is a small investment in improving your health, performance and sleep. I used my first-generation ring for over two years, and it still works to this day.

Alex Fergus
---
This is a great-looking smart ring that'll switch you onto your wellbeing in a way that we've yet to see from other brands. But it's a gamble. That's because it's a smart ring and you might just not get on with it – plus it's a lot of money.

If you're interested in improving sleep, finding out more about rest and how to optimise your life and can afford to take a risk, it's a no-brainer. For everyone else you can take the plunge or wait and see what's coming next. Because we've got high hopes for Oura.

Wareable
---
If I lose it, would I get another of the exact same or would I shop around for something else?  For the Oura ring, the answer is I'd get it again. It's one my rare few favorite things that meat that criterion.

Not just in theory, either. I actually lost my ring somewhere in the Namibian desert and as soon as I got home I got a new one.

Unconventional Route
What Customers Have to Say About the Oura Smart Ring
Rated year-after-year consistently with good reviews online, this fitness tracking ring comes highly recommended.
It's a neat piece of technology and shows promise. It's a pretty high-quality device, and I would prefer wearing a ring to a watch. Their new marketing is heavy on the sleep tracking and less on the fitness, which is more accurate.
---
It's great for sleep and all that relates to sleep but not all that useful for an activity tracker. It measures steps but for anything else you have to put in the activity manually and decide how hard you worked, it's not able to monitor heart rate and temp during activity so quite limited there.
---
I'm completely obsessed with mine, I check it first thing in the AM every single day. Had it since December. It's leaps and bounds more useful than the analysis coming out of Apple Watch which I also wear.
Final Thoughts on the Oura Smart Ring Review
When you are looking for a much more discrete activity tracker than a bracelet there are really only two options available that can perform admirably. This Oura, and the Motiv Ring. The drawbacks to the Motiv are that it is almost a fitness only tracker, this is why I stopped using it and moved to the Oura.
I love having my wrists free of any bands whether a watch or a bracelet as it just annoys me at some base level. I have tried multiple different bands and many materials which should make this not happen, none have helped me.
With this ring I have it on and basically forget that it was ever worn and it is able to track everything for 6-7 days without any inconvenience of having to recharge every day or two. I know if you get this it will help you not only in tracking activity but in getting you in sync with your body and in tune for much better rest.