When starting a ketogenic diet many people want to measure the ketones in their body to get some confidence that they are progressing into ketosis.
Typically when measuring people purchase the urine test strips, unfortunately they are of limited use the longer you are on a ketogenic diet as you get adapted you produce less measurable urine output.
This is when a Keto Mojo, comes in, as it measures the ketones in your blood through test strips and is reliable each time to give you the correct value.
Below we expand upon why the Keto Mojo is the best brand available for a ketogenic dieter to track their blood ketones and glucose. We will also cover what the data can help you understand and we will talk about some of the Pros and Cons to a Keto Mojo reader.
Why Use A Keto Mojo Over Other Brands?
There are only 2 large players in blood ketone readers overall. The Keto Mojo is the newer player in the field and the Precision Xtra has been around longer.
Both readers can provide you glucose and ketone readings. They start to split based on cost, but the costs don't change the performance it appears to be more for profit reasons.
The Keto Mojo strips costs around 50% of the similar Precision Xtra strips. This cost adds up very fast as Keto Mojo strips weigh in at about $1 each.
Pros Of A Keto Mojo
FDA Approved Device: The Keto Mojo is FDA-approved for managing Diabetes from Type 1, Type 2, and gestational
​4 Daily Notification Alarms: Set your test at the same time each day by configuring 4 alarms
​Very Affordable Measurement Strips: Each strip costs about $1, so you can test without bankruptcy
​Large Bright LCD: Easy to read screen in low or dim light
Cons Of A Keto Mojo
Measurement Strips: I know I listed this as a pro up above and it is true when based on other device comparison costs. At each strip costing about $1 this can be cost prohibitive to people and if you are choosing this over better quality foods I would encourage you to wait on a monitor.
How Easy To Use Is The Keto Mojo?
In less than about 30 seconds the video shows how to get both a glucose and ketone reading which shows how easy and straight forward the meter is to get results, fast! I bought mine almost 9 months ago and have had no problems or issues with it for the last 3/4 of a year.
4 Straight Forward Steps To Use:
Initial Setup: Open the battery hatch in the back, press the little yellow button next to the batteries to start the setup process. You will press it once to set the time and date through the front main button to modify the day, month, year, and time of day. Press it more to switch through additional settings for alarms, reader settings, and back light settings..
Code Strip Your Device: A Code strip comes with the reader. Plug it into the top of the reader. This will have to be completed with the start of each ketone strip container.
Set Up The Lancet: Twist off the bottom of the lancet and push the lancet in. Twist off the safety on the needle and then close the lancet cover back over and twist lock. Now adjust the depth of the needle plunge by twisting on the side, note that if you have tough skin you will have to choose a deep setting. Pull the plunger top handle to prepare the device and press the button to prick your finger.
Proceed With Reading: Place your ketone or glucose strip into the Keto Mojo. Once ready then all you need to do is to touch your blood to the top of the strip, it will then suck in the blood and give you your reading.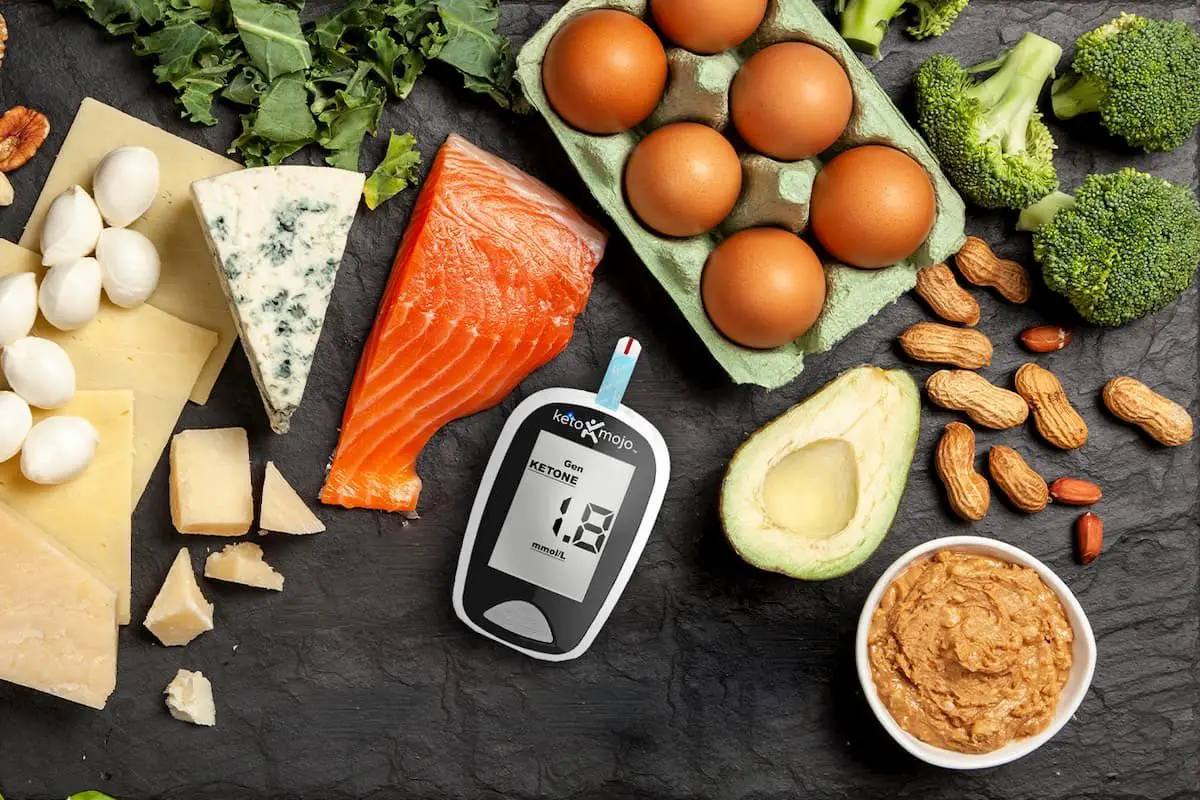 Why Would I Use A Blood Ketone Reader?
As stated above typically most keto dieters will start with urine strips and get frustrated as over time it shows less and less ketones, this leads you to believe you are failing to get the diet right. Unfortunately what that is really showing you most times is that you have become efficient at processing the ketones that you used to pee out.
This is when, if you wish to continue measuring, you will need to look into a breath reader or a blood meter to get correct readings on your ketone levels.
These blood levels will always work for proper measuring and charting if you are an analytic person. I would suggest having a blood ketone reader if you suspect food or sweeteners are causing you to have a blood sugar reaction, it works very well to measure 1 hour after, 2 hours after and see that your blood sugar goes to normal.
Is The Keto Mojo Worth The Investment Cost?
For the serious dieter who loves to have data available at their fingertips the Keto Mojo blood meter is a very good choice to provide the performance monitoring they need.
I do not think everyone will need or want one because if you keep your carbohydrates overall below 25g you are going to be in ketosis soon without measurement.
Those who prefer peace of mind though will find this to be immeasurably helpful and easy to use at home or on the go. The case is small and simple to take with you to anywhere you may travel from work, to the gym to long work travel.
I enjoy mine and am still using it when I want to test my responses to different foods, this way I can look at empirical data on adding food to diet that has the least impact to blood sugar and insulin to maintain ketosis.
Additional Items Which Can Be Helpful
Quick Start Video To configure Your Keto Mojo
I wanted to explain the steps to configure the Keto Mojo if you already had one but needed to configure it, then I spotted their short and concise video which was much more straight forward for a couple minutes (2:15) worth of time.
Final Thoughts on the Keto Mojo Blood Ketone Meter
I love my Keto Mojo and would suggest that if you are interested in checking your Ketone level that it is worth it in the long run. I am not a huge proponent of consistent daily or hourly readings as this can be cost prohibitive for most people. The benefits come in the ability to see how different foods impact my body and is invaluable to my and your long term success.
I would suggest you get started in keto and at most use the sticks to get used to a base line of measuring, if you are eating and feel that maybe a food is impacting you then that would be when you will want to measure and track methodically.