Bowflex SelectTech 840 Kettlebell Review: Swing Into Fitness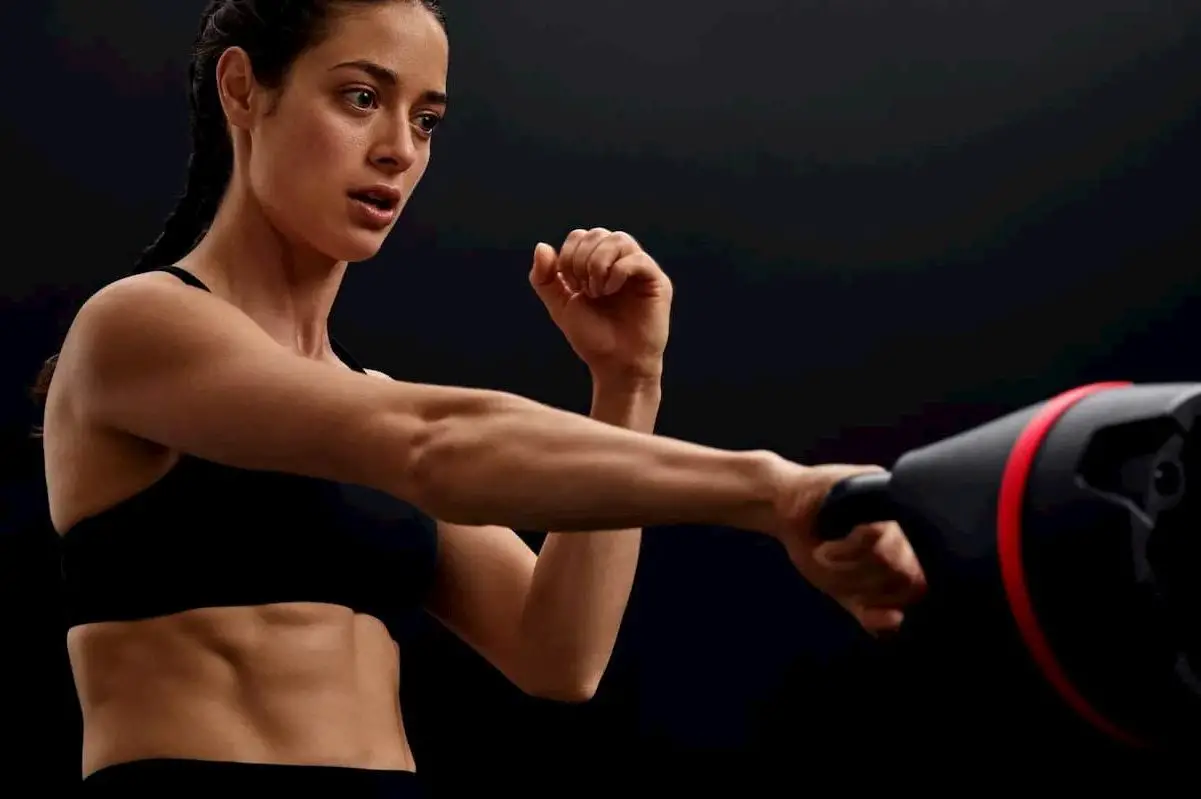 If you are a fan of kettlebells being able to add them to your home gym should be at the top of your list with gyms being impacted by the pandemic.
Buying the many different weights, you may require can get expensive very fast, and instead, I would like to speak about the excellent Bowflex SelectTech 840 Kettlebell system, which features integrated weight selection in one container!
Since many people have limited home gym space which is many times confined to a single room or in the garage weights which compress into a small space are an excellent addition to any home.
Bowflex SelectTech 840 Kettlebells
Adjusts from 8 – 40 lbs
Provides the ability to do different kinds of strength training, so easy to set up, and very sturdy. I love using the application and following the different exercises.
Here's a rundown of what we'll provide in this Bowflex SelectTech 840 Kettlebell review:
First we'll share the features and benefits that you'll find helpful.
Next, we'll take a look at the drawbacks you might need to know about
Then, we'll tell you a bit about the Bowflex company
And finally we'll provide a sampling of actual customer and Independent reviews to give you better insight into the product.
Sound good? Let's get started!
Features and Benefits of the Bowflex SelectTech 840 Kettlebell
Space Management – The Bowflex kettlebells and an amazing space saver that allows for plenty of versatility
Durable Construction – Made to take a beating and keep on ticking, allowing you years of use
Weight Variety – Ample variety of weights from 8lbs to 40lbs – 8, 12, 20, 25, 35, and 40 pounds
Weight Changing Made Simple – Quick transitioning from one weight to the next through a quick select
Eliminates the need for multiple kettlebells
Ergonomic Handle – Can easily fit both hands comfortable
Special Features (Pros) of the Bowflex SelectTech 840 Kettlebell
24 Kettlebell-Oriented Workouts Available – Now, these videos are to help users add a bit of diversity to their routines.
To be fair, they are more specifically about the move and exercise than a plan to work out, but it does help to have some guidance.
Hidden Weights – Instead of the plates all being visible and being able to get caught on objects as they are thrown around.
The Bowflex SelectTech 840 Kettlebells are contained within a cylindrical holder leading to better safety.
Quick Change Mechanism – The thing Bowflex weight sets are known for is their ability to be quickly changed on the fly with very little work.
This allows you to progress rapidly from exercise to exercise and get through your workout quickly and efficiently.
Drawbacks (Cons) for the Bowflex SelectTech 840 Kettlebell
Overall Cost – Let's get straight to the point, a $149 investment in your health may seem costly, but the 6 kettlebells this replaces will cost you in that same range and cost you more space.
Not Travel Friendly – This is not a weight set you can pick up and take with you for a flight which makes this cost anchored to performing your workouts from home.
Video: Bowflex SelectTech 840 Kettlebell
---
About the Bowflex Company
Bowflex started in the 1980s, and they focused on making home workout equipment that wasn't just like gym gear.
They started developing an innovative way to bring gym-quality results into the home.
As it turns out, people liked that idea. No gym membership, no waiting for equipment, no judgment.
Just you, a goal, and a convenient solution is sitting in the next room that guarantees results.
Bowflex SelectTech 840 Kettlebell Reviews
Looking at the features and benefits is great, but looking at what real-and-actual customers have to say about a product offers a deeper dive.
Here we've curated reviews that reflect the Bowflex SelectTech 840 Kettlebell, providing feedback from product users and reviewers on independent review sites as well online.
Independent Reviews and Recommendations for the Bowflex SelectTech 840 Kettlebell
The weight plates in the Bowflex SelectTech 840 kettlebell do rattle a bit when swung around, not enough to cause alarm, but since the bottom of the bell is open, it might make some people uneasy to perform kettlebell swings in front of their new 8k TVs.

The benefits outweigh the negatives here, though, and if you are thinking about upgrading or kitting out your home gym, definitely consider the Bowflex SelectTech 840 kettlebell, especially if you are in the US, where it can bought cheaper on average.

Read More…
---
Overall, the BOWFLEX SELECTTECH 840 somehow lives up to its brand reputation and hype.  However, if you are being smart with your money, you can buy other adjustable kettlebells with pretty much the same features at a lower price.

Read More…
---
As more of us move to at-home workout routines it's easy to see the value in the Bowflex SelectTech 840 adjustable kettlebell. It's a bit pricey up front, but between its build quality, range of weight, and 2-year manufacturer warranty, it's easy justify the buy regardless of whether you're starting a new workout plan, or a seasoned fitness enthusiast.

Read More…
---
All in all, Bowflex's adjustable Kettlebell is a convenient, space-saving, and versatile workout tool. If you're already a fan of the company's dumbbells or love the idea of having six kettlebells for the space of one, you're probably going to like it. 

Read More…
---
What Online Customers Have to Say About the Bowflex SelectTech 840 Kettlebell
Love using this product at home. Takes a little getting use to since the sizing is pretty different from a normal kettlebell but overall I am happy with my purchase.
---
I live in a small condo and don't have the space to keep several kettlebells so this product has been a godsend! The idea is genius! I plan on buying the dumbbells as well once they are back in stock.
---
I really liked this option for quarantine workouts because the kettlebell is compact and can be tucked away very easily.

I wish the handle was shaped more like a traditional kettlebell because sometimes it's a little awkward to hold with movements that require holding with both hands such as presses and such.
---
As a trainer and a consultant for Therapists, I really have enjoyed using this product. It saves time, money, space, is durable and fits into any decor with ease. The videos on the home site are also inspiring and easy performed.

I have two sets of Bowflex SelectTech 1090 Adjustable Workout Exercise Dumbbell Weights that both I and my clients LOVE!!! The dial on the Kettlebells are a bit stiffer than the Dumbbells, but the design and versatility make this purchase worthwhile.

I have already recommended the Kettlebells to my friends and clients on facebook. They fit great in any size workout space at any level of performance.
---
Final Thoughts on the Bowflex SelectTech 840 Kettlebell
I have not jumped in on the kettlebell workouts as my friends have. I think I have always loved traditional lifting instead.
I will admit, though, that I have seen some AMAZING results from people who choose to go with the kettlebell systems.
If you aren't a fan of kettlebells from Bowflex, I love the gear for lifting available from Rogue Fitness it just became a staple in the NBA, helping them stock their gyms for this shortened 2020 season!